At Heritage Hardwood Floors we only do one thing and one thing only – wood floors. We install, we finish and we refinish wood flooring. And, we do it very well.
Locally owned by three partners, Heritage Hardwood Floors has been serving homeowners, builders, designers and architects since 1997. Our projects range from single rooms to entire homes, offices, businesses and commercial establishments. No matter the size of the project, each customer receives the same level of attention to detail by the skilled craftsmen-owners and experienced tradesmen who are direct employees of the company.
Heritage Hardwood Floors purchases solid hardwood and engineered wood flooring products from the most reputable and quality oriented mills and manufacturers. We have materials available for nearly all installation conditions with an unlimited array of finishes to compliment and enhance your décor.  Our selections come unfinished for completion of stain and varnish after installation or with factory finished surfaces. We are also experts in repairs and refinishing of existing wood flooring.
For more information, please call Terry Llewellyn at 727 898-5506 or use our CONTACT form.
 Meet the Proprietors
Terry Llewellyn | Co-Owner
Terry handles sales for Heritage Hardwood Floors though she doesn't set out to sell, but advise new and existing customers on solutions for the use and installation of hardwood flooring in Florida's climate.  This southern gal will be the first to say, "ya gotta be careful and really know what you're doing with hardwood flooring in the type of weather we have here."
And, with the vested interest of being one of the owners, her prime goal is customer satisfaction, not a commission or manufacturer's bonus.
It is just that type of attitude and expertise that sets Heritage apart from the "big box" retail stores and chain flooring operations with commissioned sales people and contract installers.
In her spare time, Terry enjoys cooking – southern dishes, of course – and baking for her husband and teenage daughter.  She has even been known to whip up a batches of cookies, muffins or banana bread to share with customers and employees.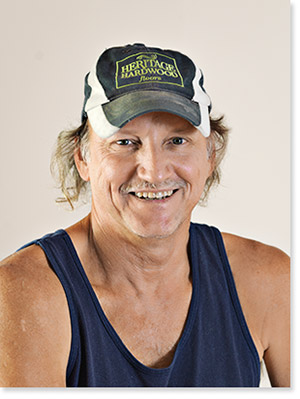 Jerry Evans | Co-Owner

Jerry is a native Floridian who has been pursuing the craft of wood floor finishing for over thirty years. He is passionate about his work and personally performs and supervises all finishing and refinishing work at Heritage Hardwood Floors.

Jerry is a master of the trade and takes great pride in mixing custom stains when required for repairs and additions so that clients are unable to discern the difference between new and existing flooring. He sets his own benchmark for quality and achieves the "Heritage" look though his knowledge, experience and painstaking attention to details.

Jerry is married and has three children and one grandchild. And, in order to carry on the family tradition of craftsmanship, his youngest son is currently apprenticing with him. In addition to spending time with his family, Jerry enjoys fishing and restoring classic cars. His current project is a frame-off restoration of a 1967 Dodge Coronet R/T.

John Scorcia | Co-Owner

When he begins to install wood flooring, John disappears into his own world with an unmatched focus on plying his craft. He arrives on the job early and studies the work area, opens bundles of wood and mixes and matches the pieces before beginning to place them.

After completing his formal education in New York, John began his career as an apprentice installer of wood floors working toward becoming a master craftsman. There are few species and types of wood flooring that he has not installed in over 30 years of working in the trade.

John is married and he and his wife have three sons who are all currently in college. He is a hockey fanatic and over the years has been involved with his sons on the ice coaching their Little League Hockey teams.

Watch John install wood flooring and it's evident that he loves, yes loves, his work. In fact he will be the first to tell you that wood flooring is not his job, it's his life.